Asako Nakimiya (牧宮 麻子  Makimiya Asako) is the mother of Shion Pavlichenko and Suou Pavlichenko and ex-wife of Mikhail Pavlichenko.
Appearance
Edit
Asako is a woman of Japanese descent. She has chin length brown hair and brown eyes.
Personality
Edit
Asako is a kind woman who was very involved with her children. She taught Suou how to make origami at a young age.
Background
Edit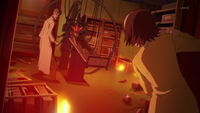 While living in Russia, Asako married Mikhail and had two children with him, Suou and Shion. When the children were still very young, she took them to the university where Mikhail worked to deliver him his lunch. While there, an explosion killed Suou and knocked Asako unconscious. When she came too, she found Mikhail using the M.E. Squeezer on Suou's corpse as he attempted to extract her memories. Disgusted by what she saw, Asako took Suou's body and fled. However, Shion choose to stay with his father. After cremating Suou, she and Prof. Pavlichenko got divorced and she returned to Japan. Asako spends the next few years working as a photographer, taking pictures of various buildings in Tokyo, with a particular focus on the building of the wall around Hell's Gate. Her photos are published in books.[1][2]
Part in the Story
Edit
Gemini of the Meteor
Edit
Asako flies in to Haneda Airport, where she is surprised to see Suou, who she thinks is Shion, waiting for her. She embraces Suou before they head in to the city. In her car, Suou informs Asako, despite her disbelief, that she is Suou, not Shion. Visibly shocked, Asako suddenly stops the car and states that Suou died eight years ago.[3]
Asako wonders if she has gone mad. Suou grabs her and asks to go to the aquarium to lift her spirits, but upon seeing that Asako does not understand what she means, Suou gets out of the car and Asako leaves. She is later confronted by Misaki Kirihara at her apartment where Misaki asks her about her family. Asako recounts to her the events that lead to the death of Suou and her separation from Mikhail and Shion.[1]
Asako is present in Shion's alternate world, where she lives together with Mikhail and Suou in Tokyo.[4]
References
Edit
↑

Gemini of the Meteor, Episode 1

↑

Gemini of the Meteor, Episode 9

↑

Gemini of the Meteor, Episode 12