Isozaki was Huang's partner in the Japanese Police.
Appearance
Edit
Isozaki has short black hair and brown eyes.[1]
Personality
Edit
According to Huang, he was secretive about his work and only invited him to have dinner to show off his wife, which he light heartedly agrees with.[1]
Background
Edit
While the wall around Hell's Gate is in the early stages of construction, Isozaki and Huang investigated a South American terrorist group supposedly operating in Tokyo at the time. Huang found a photo of an old woman, which Isozaki brought to his superiors to be investigated. He later told Huang that they had dismissed the photo due to questions over its relevance. Isozaki then brought Huang home with him to have dinner with him and his wife, during which the three bonded.[1]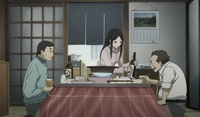 On the third such visit to Isozaki's house, when Huang is leaving their home, the Contractor Shihoko Kishida was waiting nearby. She used her ability to kill Isozaki, who died in his wife's arms. His cause of death was internal bleeding due to the destruction of his internal organs.[1]
According to Shihoko, Isozaki lied about who he was. She states that he is actually connected to the member of The Fraternal Order of the Holy Gate whose photo they had found, which was a photo of Alma. She claims that he only pretended to give the picture to his superiors, instead concealing and then destroying it.[2]
References
Edit
↑

The Black Contractor, Episode 20
Ad blocker interference detected!
Wikia is a free-to-use site that makes money from advertising. We have a modified experience for viewers using ad blockers

Wikia is not accessible if you've made further modifications. Remove the custom ad blocker rule(s) and the page will load as expected.