Kituchi is a chief of the Sanitation Division at PANDORA.
Appearance
Edit
Kituchi is a short, somewhat plump man with dark hair. He wears a grey and blue uniform of the PANDORA Sanitation Division.
Personality
Edit
He is typically very strict with his subordinates when on duty, regularly chastising them for anything they do that is incorrect. He is very deferential to his superiors.
Part in the Story
Edit
The Black Contractor
Edit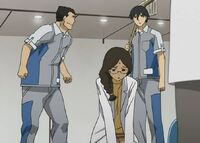 When a new group of recruits arrives at the Sanitation Department, Kituchi oversees their induction. He spends a great deal of time overseeing Hei, often giving out to him for his incompetence. When Corinna Moku is murdered, Kituchi finds her body and reports to the PANDORA Security Chief that she and Hei were somewhat close. He later agrees to keep the Chief informed about Hei.[1]
When Mina Kandaswamy talks to him about Corinna's murder, he sits with Hei while eating a meal and talks to him about his failed relationship with Mina.[2]
References
Edit
↑

The Black Contractor, episode 11

↑

The Black Contractor, episode 12
Ad blocker interference detected!
Wikia is a free-to-use site that makes money from advertising. We have a modified experience for viewers using ad blockers

Wikia is not accessible if you've made further modifications. Remove the custom ad blocker rule(s) and the page will load as expected.