Louis (pronounced 'Rui' in Japanese) was a French agent and a Contractor with the ability to control gravity.
Appearance
Edit
Louis is a white man with blond hair. He wears a beige suit, pink shirt and green tie.
Abilities
Edit
Gravity Nullification: Louis possessed the ability to nullify gravity upon people and things within his line of sight. He could affect his own personal gravity allowing a form of flight.[1]
Obeisance: His Obeisance required him to break his own fingers.[1]
Part In Story
Edit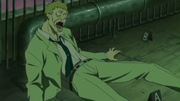 Louis is involved in a mission along with Shinoda Chiaki, Jean, Paul and Alain to steal secret information from the National Institute of Science by illegally accessing the computers through PANDORA's core system. After the information is stolen, Louis is pursued by the police. He uses his ability to manipulate gravity to evade capture when he is cornered on a rooftop by Yūsuke Saitō and another officer. While fufilling his Obeisance (breaking his fingers), he notice's Yin's surveillance spectre and realises he has been pin pointed. Before he can escape, he is confronted by Hei who overwhelms him. Louis reveals that Shinoda has the information and tries to make a deal with Hei. However, Hei kills him.[1]
References
Edit
Ad blocker interference detected!
Wikia is a free-to-use site that makes money from advertising. We have a modified experience for viewers using ad blockers

Wikia is not accessible if you've made further modifications. Remove the custom ad blocker rule(s) and the page will load as expected.