Rika is the daughter of the owner of a ramen shop called "Home Run Cafe". She often feeds Mao.
Appearance
Edit
Rika is a young teenage girl with brown eyes and long brown hair tied back in to two braids.[1]
Personality
Edit
She likes feeding cats and is very polite, thanking people for their custom even outside the store.[1]
Part in Story
Edit
The Black Contractor
Edit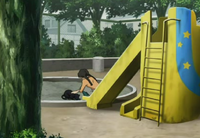 While feeding a cat she calls Hernandez, Rika is called back in to the store by her father. On her way in, she passes Hei and thanks him for eating at their store again.[1] A few days later, while on her way to school, Rika finds Miiko, a cat which she mistakes for Hernandez, but realizes that it is not the same cat. She picks up its discarded collar.[2]
When a bombing campaign against the offices of the various intelligence agencies operating in Tokyo occurs, Rika watches the TV news coverage intently. She steps outside to throw away from water, inadvertently throwing it at the passing Amber, who shields herself with an umbrella.[3]
Gai Kurusawa and Kiko Kayanuma visit the store and ask Rika and her father to complete a questionnaire about the old stars before Hell's Gate appeared. While her father answers the survey, she listens as Kiko complains about the weather forecast for that night being too bad to see the old stars. Kiko asks her if she believes the rumour that they would be able to see the old stars that night, prompting her to say that she does not know. She then listens as her father tells a story about her getting lost at an amusement park when she was little and comments that she sounded cute when she was little.[4]
References
Edit
↑

The Black Contractor; Episode 8

↑

The Black Contractor; Episode 15

↑

The Black Contractor; Episode 23
Ad blocker interference detected!
Wikia is a free-to-use site that makes money from advertising. We have a modified experience for viewers using ad blockers

Wikia is not accessible if you've made further modifications. Remove the custom ad blocker rule(s) and the page will load as expected.